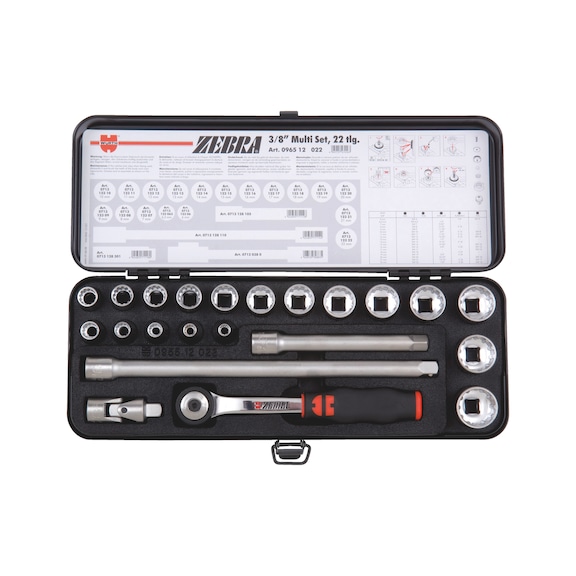 3/8 inch sckt wrnch set DBHEX multi profile 22 pcs
SKTWRNCH-SORT-3/8IN-MULTI-22PCS
ZEBRA
Prices for customers after login
Show availability in Würth trade store
If you have any questions, please call our service hotline at 0800116633.
You are not yet a Würth customer or do not yet have access data to the Online Shop? Then
register now
in just a few steps. After a successful check of the entered data, you will have immediate access to the stock inquiry as well as all prices and can immediately order.
Exclusively for trade customers
Register now and access more than 6,000 products
Call customer service: 0800116633
22 pcs.
Supplied in a metal box and a high-quality foam insert with clamping effect.
Contents:
175 mm ratchet


125 mm extension


250 mm extension


55 mm cardan joint


1 each of multi-socket wrench sizes 6–22


Metal box, size 2


Foam insert 312x113x34 mm
Product information
Certificates/ Documents
Art.-no.
Plus disposal costs -,-- per selected packing unit
Cust. Mat. No.
Certificates/ Documents