Web Spray Adhesive High Temp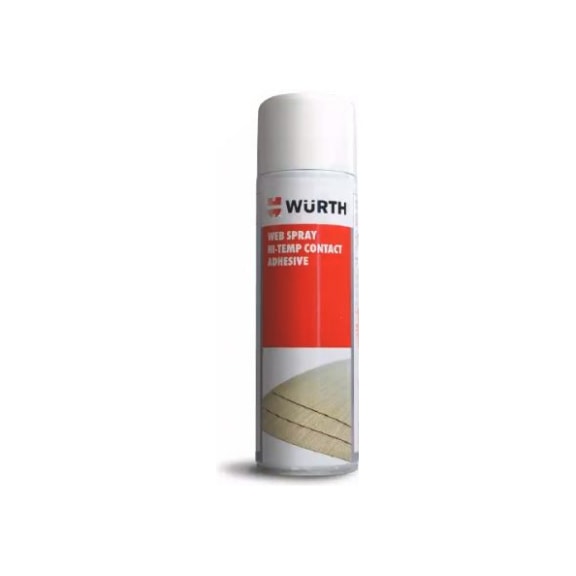 For detailed information, other images and documents, please select individual articles from the following table.
Web Spray Adhesive High Temp
A high performance contact adhesive with a unique resin formula which creates a tough and resilient bond line between decorative surface materials and all common wood substrates.
Exclusively for trade customers
Register now and access more than 6,000 products
Call customer service: 0800116633
Exclusively for trade customers
Register now and access more than 6,000 products
Call customer service: 0800116633
Prices for customers after login
Fast Drying


High Temp Resistance - 128°C


High Solids


Portable Systems


Easy Application Control


Class 1 Fire Rating


BS 6222 Bond Strength Approval
Notice
NOT RECOMMENDED for use with plasticised vinyls, flexible plastics, expanded/extruded polystyrene, PE or PP
Use only in well ventilated areas.


DO NOT thin or reactivate with solvents.


DO NOT incinerate.


DO NOT expose to extreme heat over 50°C.


Keep away from sources of ignition.


Release pressure before disconnecting hose.


Test for suitability before use.
Handling & Storage
Consult Material Safety Data Sheet prior to use.


Do Not store at temperatures over 50°C.


Avoid exposure to direct sunlight.


Do Not store directly on concrete floor.


For optimum performance, store at 18°C during use, but must always be above 10°C.


When connected, keep valve open and hose pressurised at all times.


Do Not close valve until ready to connect to new cylinder.


Release pressure in hose before disconnection.


Always test product to determine suitability for your particular application prior to use inproduction.
MSDS and Technical Data Sheets MUST be read and understood before use. Information contained in this technical literature is believed to be accurate and offered in good faith for the benefit of the consumer. The company however cannot assume any liability or risk involved in the use of its chemical products since the conditions of use are beyond our control. Statements concerning the possible use of our products are not intended as recommendations to infringe on any patent. These products are for industrial use only.
With this information, we want to advise you to the best of our knowledge based on our tests and experience. We assume no liability for the application results in individual cases, however, due to the large number of applications and the storage and application conditions that lie outside the scope of our influence. This also applies to the use of the non-binding technical and commercial customer service we provide. We always recommend that you conduct your own tests. We guarantee the consistent quality of our products. We reserve the right to make technical changes and carry out further development.
Application area
Suitable for bonding HPL, GRP and aluminium to a wide variety of substrates including MDF, chipboard, plywood and many other timber sheet materials and is designed for permanent bonding where immediate bond strength and high heat resistance are required.
Wurth Web spray hi-temp contact adhesive can also be used for bonding sheet metals, where surface preparation is very important – surface must be degreased and lightly abraded with fine abrasive or non-woven material.
Instructions
This product is designed to be applied to two surfaces to be bonded together. Make sure that surfaces are clean, dry and free from dirt, dust, oil, loose paint, wax or grease, etc. For best results, the temperature of the adhesive and the surfaces being bonded should be between60ºF - 80ºF (16ºC - 27ºC).


Use with adequate ventilation. When possible we recommend shaking the canister well before using. Attach and secure hose tightly onto the spray gun with required tip. Attach the other end of the hose onto the canister. Make sure the hose-valve connections are securely tight. Open the valve on the canister slowly and fully, check for leaks during this process. Unlock the trigger on the spray gun to start spraying.


Prior to use, check compatibility by spraying a small test patch of the adhesive on the substrate.This product may degrade some substrates. Spray about 10-20 cm (4"– 8") away at a 90º angle to the surface, applying a uniform, even coat of adhesive to obtain 80% to 100%coverage of the surface. If necessary, spray another coat of adhesive in areas that appear to need more adhesive. Spray both surfaces to be bonded, one surface vertically and the other surface horizontally. Allow the adhesive to tack off until no adhesive transfers to the knuckle when touched.


Adhere surfaces and press together with adequate pressure. A roller is recommended to apply a uniform pressure to achieve maximum strength. Allow 24 hours for the adhesive to fully cure.


If the spray tip clogs, unscrew the spray tip from the gun and clean with solvent such as lacquer thinner or acetone. Do not use a pin on the spray tip orifice.
Select RAL-colour code
!! NOTE: On-screen visualisation of the colour differs from real colour shade!!