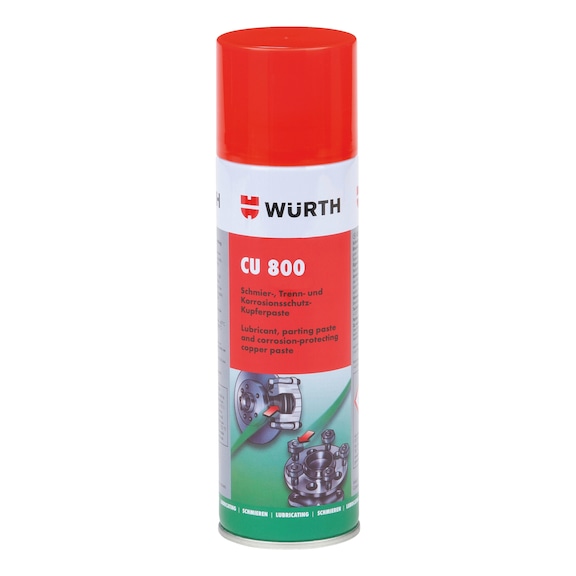 For detailed information, other images and documents, please select individual articles from the following table.
Highly adhesive lubricating, separating and anti-corrosive copper spray that is extremely resistant to high temperatures and high pressures
Exclusively for trade customers
Register now and access more than 6,000 products
Call customer service: 0800116633
Exclusively for trade customers
Register now and access more than 6,000 products
Call customer service: 0800116633
Prices for customers after login
Very high resistance
Temperature application range from –40°C to +1200°C for dry lubrication


Resistant to water, diluted alkalis and diluted acids
High, long-lasting lubrication
Provides long-lasting protection against burning-on and seizing, galling, wear, corrosion and frictional corrosion.
Silicone-free and AOX-free
Notice
Do not apply to brake discs or brake linings. Silicone and AOX-free
The usage instructions are recommendations based on the tests we have conducted and our experience; carry out your own tests before each application. Due to the large number of applications and storage and processing conditions, we do not assume any liability for a specific application result. Insofar as our free customer service provides technical information or acts as an advisory service, no responsibility is assumed by this service except where the advice or information given falls within the scope of our specified, contractually agreed service or the advisor was acting deliberately. We guarantee consistent quality of our products. We reserve the right to make technical changes and further develop products.
Application area
The high temperature-resistant lubricant is suitable for lubricating the backs of disc brake pads (prevents squeaking noises), screw connections (exhaust manifold screws, spark plug threads etc.), bearings, pivot points, joints, sliding surfaces etc., prevents solid seals from becoming baked on and is also suitable for contact protection on the nozzles of gas-shielded arc welding guns and on batteries and battery terminals.
Instructions
Shake can well before use. Clean the parts to be treated with brake cleaner, art. no. 08901087 The parts must be clean, dust-dry and free from grease. Spray evenly from a distance of 20 - 30 cm. When using the tube or can, brush the surface to be treated evenly. Apply a thin and even layer of CU 800.
Select RAL-colour code
!! NOTE: On-screen visualisation of the colour differs from real colour shade!!